I've been lucky enough now to sail three times out of Southampton, England. Two of these were on Norway cruises and one was on a transatlantic from the UK to New York.
Southampton is a port city located about 80 miles south of London. It's a popular departure port for cruises to the British Isles, Norwegian Fjords/Iceland, Northern Europe, and even the Mediterranean and the Canary Islands.
As an American, I love taking cruises out of Southampton because it affords me the opportunity to build in a few days of sightseeing and traveling before I board my cruise — and sometimes even after! The city is easily accessible by rail, bus, and even has a small airport for flights from Europe and other parts of the UK. You can also drive to Southampton, of course, but if you're like me and driving on the "wrong" side of the road freaks you out, you don't have to!
If you're flying in to the UK for your cruise out of Southampton, the first thing you should know is that there are technically six (!) London airports. If you're planning to go straight to Southampton when you arrive in the UK, you want to fly into Heathrow or Gatwick Airports, because Southampton is located south and a little west of London. (If you're planning to stay in the London area for a few days first, you have a little more flexibility to use the other airports to get a lower price – although most flights from the US land in either Gatwick or Heathrow.)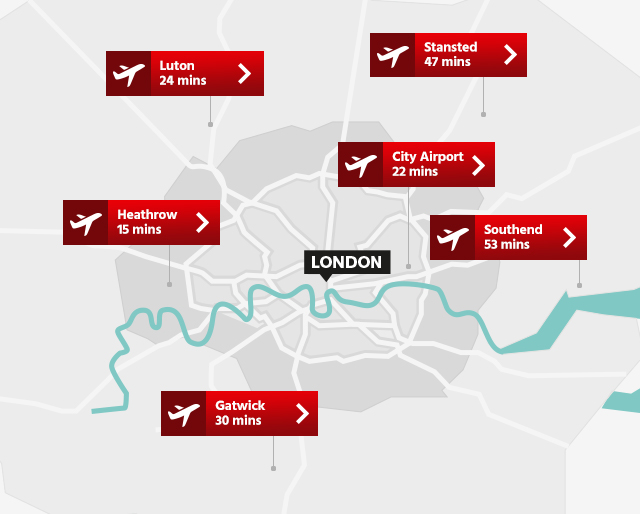 In my opinion, the easiest way to get from the airport to Southampton is the bus – it will pick you up directly at the airport (Gatwick or Heathrow) and take you to Southampton's bus station, which is close to the cruise terminals. The National Express buses run frequently and they're very affordably priced. This is a good option if you're planning to fly in and head straight to Southampton to stay a day or two before your cruise. You can actually wait until you land, then head to the bus station and buy tickets for the next bus departure to Southampton.
If you've planned to do some sightseeing in London before you head down to Southampton for your cruise, you should look into taking the train. Direct trains to Southampton leave from London's Waterloo station, so keep in mind that you'll need to get you, and your party (and all of your luggage!) to this station. You can find timetables and buy tickets at the National Rail website. With the train, you do want to plan and buy tickets ahead of time, as they can get more expensive as your trip gets closer.
Southampton's bus and train stations are conveniently located to the cruise terminals, and there are plenty of cabs to take you from one to the other if you've planned to go straight to your cruise ship. But I definitely recommend taking a day or two to explore the city of Southampton first! I'll write more about things to do in the city in a later post.